Taking the plunge is not a decision to be made lightly, especially if you have plans of putting up your own business.

Everything can be exciting. Yet, you can imagine how it is like to be the BOSS of your own company. But, getting it up and running is a huge gamble.

So, when it comes to starting up a new business, several factors should be taken into consideration seriously. And, one most important factor is choosing the right location.
Where In the Philippines Can Foreign Investors Expand their Businesses
Business is still booming in the Philippines
Despite high inflation rates, the government continues to reform its business regulations to speed up the processes. More so, the government is doing its best to fight red tape and corruption.
All these made a positive impact on the business industry and help enable the country to have a robust and progressive economy. The Philippines is even hailed as the fastest growing economy in Asia.
This awesome map shows the top 25 cities in the Philippines to launch a new business. Using this data can be your ultimate guide in choosing a perfect location where doing business is the easiest.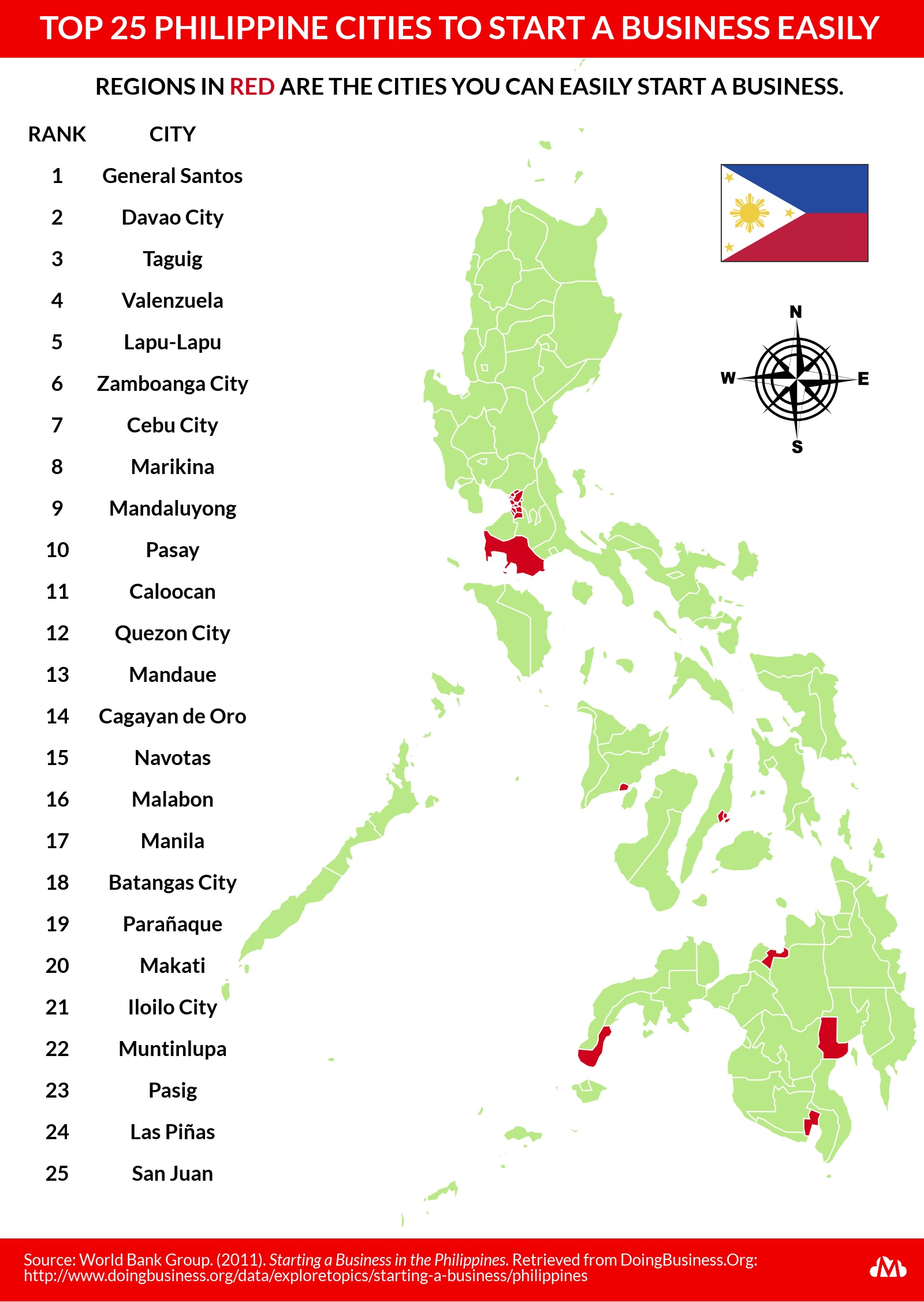 1. General Santos City
Known as the "Tuna Capital of the Philippines" and the "Home of People's Champ" Manny Pacquaio, General Santos City tops the list as the best city for business startups.
Apart from fishing, this city is also a huge contributor to Philippines' agro-industry. Modern infrastructure and state-of-the-art facilities are also available including communication, transportation and more.
For aspiring entrepreneurs, a massive opportunity awaits in General Santos City. In fact, it can only take 22 days with 17 procedures in the registration process.
No wonder why this highly urbanised city has never failed to impress us.
2. Davao City
Davao City ranked 87th as the world's fastest growing cities and urban areas from 2006 until 2020. This Crown Jewel of Mindanao was put into the spotlight when the former mayor Rodrigo Roa Duterte became the 16th President of the Republic of the Philippines.
A lot of foreign investors became interested to pour in their investments to the city. This is because there are plenty of reasons why you should invest in Metro Davao.
Apart from being one of the Fruit Basket Capital in the Philippines, it is also competitive in terms of doing business. A start-up company can only take 17 procedures within 27 business working days. Davao also has the fastest processes when it comes to dealing with construction permits.
Truly, "Life is Here" in Davao City.
3. Taguig City
From a former empty military base, Taguig City is now the fastest growing central business district in the Philippines. Skyscrapers were built in every corner of the city, making the cut as the top-tier hub for business in the country.
This success in creating a compressed version of modern Philippines have influenced its neighbour cities to develop and open the ground for investments.
If you want to put up a new venture in Taguig, starting a business here can only take you 28 days to complete 16 procedures. But, make sure you're also prepared to meet hundreds of competitors similar to your business.
4. Valenzuela City
Valenzuela was once a meek rural town before it became a highly urbanised city. This vibrant city is now the premier business and industrial centre in the Philippines. Despite its misconception as a backwater location, Valenzuela emerges as the top manufacturing hub in the country.
Although it can take you 32 days to get a business permit, the local government is using an automated system for its 16 procedures. But, registering a property here is the fastest and the easiest.
Indeed, Valenzuela has come a long way from its humble beginnings to exponential growth over the years.
5. Lapu-Lapu City
Where else in the Philippines would you find a diverse range of businesses sitting on a perfect beach location? Lapu-Lapu City it is!
Rated as the most business-friendly places in 2008, Lapu-Lapu City continues to provide the best practices such as fast-tracked permits and tax holidays.
For foreigners, this first-class city is a go-to destination not only for vacation but for business as well. Based on the study, it takes 31 days to register a company before you can start a business in the city of Lapu-Lapu.
6. Zamboanga City
Zamboanga City is rich in history with distinct culture and also known as "Asia's Latin City". But, this does not stop them from evolving to provide objective measures of business regulations and enforcement.
It claimed the sixth spot as best cities to launch a new business as it can only take 28 days to complete the 20 business procedures. This is a remarkable achievement for the city.
7. Cebu City
Cebu City cannot be called the Queen of the South for no reason. Metro Cebu is undeniably the primary location for trading outside Metro Manila.
This well-renowned city of the Visayas region consistently drives growth to the Philippine economy for a lot of reasons. It has constant tourism influx, liveable and accessible, competent workforce and bearing dynamic business centres.
What's more, businesses tend to enjoy tax holidays, exemption from tax export and simplified business procedures. You can even start your business after you have completed this 15 procedures in 31 days.
Who knows, your success might just be in Cebu City.
8. Marikina City
Marikina is popularly known as the "Shoe Capital of the Philippines". Today, the city is fully diversified and it becomes a formidable business site for budding entrepreneurs. Its strategic location is a plus factor but what attracts the most investors is the ease of doing business in Marikina.
For business neophytes, you can start trading or selling within 29 days for 16 procedures. Of course, the biggest assets are the people and its clean environment.
9. Mandaluyong City
If you are into a healthy lifestyle or cradle of world-class accommodations, Mandaluyong is the best place to be. Given the fact that it is also a "Shopping Mall Capital of the Philippines", absolutely, there will be a variety of business ventures can be put up here.
For a span of 28 days with 19 procedures to take, you can now start a new business at the "Tiger City of the Philippines". Doing business here in Mandaluyong is like having your own empire.
With modern infrastructure and prestigious commercial centres, the heart of the business opportunities is here in Mandaluyong City.
10. Pasay City
Pasay City may be ranked 10th as the best cities to launch a new business; but, this highly urbanised city has the best local government unit support. The number of procedures can only take you 32 days, tax incentives are also offered and how security is being implemented attracting more investors to come.
In addition, new road infrastructures and toll roads are being built to bring more domestic tourists and products. It also has a connection to 10-million market in Metro Manila and that includes passengers from airport and bus terminals.
11. Caloocan City
Located in the country's National Capital Region, it is no wonder that Caloocan City is amongst the top-ranked cities to start a new business. Processing a new business here will only take 28 days.
Moreover, the local government unveiled plans to promote MSMEs. Several long-term business goals include investment forums, establishing a permanent Business-One-Stop-Shop (BOSS), and implementing a monitoring system to regularly update taxpayers of their business application status.
These reforms aim to promote mutual growth in both private and public sector. And, these changes can potentially improve the city's ranking in terms of business ranking.
12. Quezon City
With an estimated population of over 2.9 million citizens, Quezon City the most populated city in the country. But, this city also has one of the most dynamic metropolitan areas. In fact, the local government actively streamlines its business permit and licensing system to promote investments in several sectors.
Its main metropolitan triangle sprawls over 250 hectares and features three mass transit stations along with several easy-to-access transportation options. This area is the ideal location for retail and wholesale businesses since these can take advantage of the wide roads and direct link transport lines.
There are also plans to re-organise these areas into five distinct districts namely the Triangle Exchange, Emporium, Downtown Hub, Residences, and Commons. These new districts can eventually open up more business opportunities for interested entrepreneurs.
13. Mandaue City
Mandaue City is a highly urbanized city hosts over 40% of Cebu's export companies. It hosts some of the country's largest companies such as the San Miguel Corp. and Coca-Cola Bottling Corp.
Members of the city's chamber of commerce also actively take part in meetings to improve the local business environment. In fact, last May 15, 2018, Mandaue Chamber of Commerce and Industry (MCCI) members discussed improving the peace and order protocols for companies. Heads of security, police, and fire protection encouraged members to set-up a comprehensive plan in case of emergencies.
An active business community, along with a 32-day business licensing process, makes Mandaue City one of the top locations to start your own business.
14. Cagayan de Oro
One of the country's boom towns, it comes to no surprise why Cagayan de Oro is part of this list. Most of her young workforce has at least a 4-year college degree.
The local government and business sector also work hand-in-hand to improve the quality of life in this city. Local suppliers, business owners, the Department of Trade and Industry, and the Board of Investments began a program to connect SMEs with large corporations.
Its main goal is to help producers meet with potential buyers and create a more competitive business environment. This project also states that eligible SMEs can receive government assistance through the local DTI branches. This active and heavily promoted business community contributes to the city's ranking as one of the easiest areas to do business.
15. Navotas
Did you know that it takes approximately 34 days to process a business permit in Navotas City?
This can be the reason for the city's current ranking when it comes to ease in doing business. But, don't let this discourage you. There are many business opportunities for entrepreneurs, especially in the fisheries sector.
Navotas City is known as the Fishing Capital of the Philippines. It boasts one of the one largest fishing complex in Southeast Asia. Over 300 tons of aquatic products are processed daily in the Navotas Fish Port Complex; making it one of the busiest ports in the country.
Businessmen looking to venture into the fishing and fish processing business should definitely consider setting up in this city.
16. Malabon
Like most other cities in the Philippines, the city of Malabon has a trove of tourist spots. It has old churches, art galleries, and a famous zoo and, lately, it became a food haunt. Big thanks to the city mayor because she's a certified foodie.
So, if you are planning to put up a food business in Malabon, this can be a great opportunity. It can take you 32 days with 20 procedures to complete the registration and then, you can start delighting the food lovers in the city.
17. Manila
Manila has always been the centre for business opportunities way back a few decades ago. Now, the city reaches its peak where business establishments are all over the place.
The competition here can be called survival of the fittest but there is still a room for investments. You just have to make sure that your business is something that is fresh and new to the table. It is also important to maximise the use of online marketing to promote brand awareness and attract potential customers.
What's more, the ease of doing business in Manila is also a challenge. Although you only have to face 15 business procedures, it takes 38 business days to complete the process before you can start a business.
18. Batangas City
Known as a haven of peace and relaxation, Batangas is also recognised as the Industrial Port City of CALABARZON. It has an average annual growth of 2.13%, making it one of the fastest urbanising cities in the Philippines.
Batangas City boasts of a supportive environment that caters to what businesses need and want such as a well-developed infrastructure backbone.
Beyond infrastructure, businesses are also attracted to the city because of its business-friendly governance. With 19 procedures to complete in 34 days, investing with a small capital is profitable here in this great city.
Batangas can be really considered as an emerging city with a feel of both urban and rural living.
19. Parañaque City
Parañaque City is tagged as the "Novena Mecca of Metro Manila" because of the famous and most visited Baclaran Church.
But, aside from its given tagline, Parañaque has been renowned as purely a residential city. That is why most of the businesses that are established here cater to address households and family needs. However, it is also a nice location for retail and manufacturing.
To start a business here, you need to undergo 20 procedures within 35 working days.
20. Makati City
Most investors are actually attracted to Makati City's prosperous business climate. From leading financial companies, reputable real estate magnates to top business process outsourcing services, Makati is the "Wall Street of the Philippines".
But, the ease of doing business here is not as easy as you think. It can take you 33 days with 19 procedures before you can start a business in Makati. The cost of doing a business in this city is quite a huge investment. So, make sure you have a lot of buck loads to fill in.
21. Iloilo City
Dubbed as "The Crowd Pleaser", Iloilo City is also a go-to destination for aspiring entrepreneurs who want to start a new venture outside Metro Manila. It has a booming economy with thriving business sectors such as information and communication technology and agri-business.
Iloilo is a good testing ground for start-up businesses, not only because it is the home of the country's busiest airports, but because it has a good environment for business. As a matter of fact, Iloilo is the first city in the Philippines to pilot a web-based business registration system in January 2014. So, its long queue process was cut into 20 procedures in 56 business days.
22. Muntinlupa City
In 2017, Muntinlupa is cited as the Most Business-Friendly LGU in the Philippines. The city government employs a BOSS system or also known as Business One-Stop-Shop system. A business owner will no longer move from one office to another just to complete the necessary permits.
But, this can also consist of 20 procedures which can be completed within 36 days. It's not that bad at all. This city is improving its efficiency and prompt delivery of government services.
23. Pasig
Pasig hosts to over 18,000 business establishments, making it the second best location for business in Metro Manila. But, because of this, the city is also coming up with solutions to different challenges including business congestion and traffic woes.
So, putting up a new business here can be a tough decision to make. But, definitely, you can still find a space and place for your start-up business. That is why the city government is now implementing a simplified business permit and licensing system.
Although it comprises 22 procedures with a timeline of 36 days, it is a good start for the city to be included in top cities where business is the easiest.
24. Las Piñas
Did you know that the origin of this city's name is still widely debated?
One account state that traders from Batangas and Cavite would sell their pineapple products in this area. The more accepted account, however, was that the town's original name came from Las Peñas. This suggests that the name came from the stone quarrying that took place at that time.
Now, aside from a rich history, this place boasts several iconic tourist spots like the Bamboo Organ, the Nature Church and the Salt Beds. As a result, there is a thriving tourism industry in this part of the country.
Savvy investors can take advantage of this influx and invest in the city's increasingly lucrative medium to high rise condominiums. Business owners, however, should note that it takes approximately 35 days to process a business permit.
25. San Juan
San Juan is one of the cites which make up the Metro Manila area. Four of the country's presidents were born in this locale. That is why it was also dubbed as the "City of the Presidents". Located at the heart of the National Capital Region, various transportation options connect San Juan City to different cities in the Metro.
So, it comes to no surprise that many business owners choose to establish their companies in this area. In fact, the number of businesses grew by 10% as of January 2018. This statistic is on a steady rise and could contribute to the continued growth of the city.
But, if you are interested in starting a business here, do take note that it will take 39 days to process your business application. The city's small area size also poses a challenge to start-up entrepreneurs. So, consider your options first before starting your company in this area.
Conclusion
Now that you know the best places to start a business, it is also the right time to look at marketing strategies that can suit your business.
It can be a daunting task, but getting help from a marketing expert is a great option. Start your venture and get an inbound marketer for your marketing needs today.
About the Authors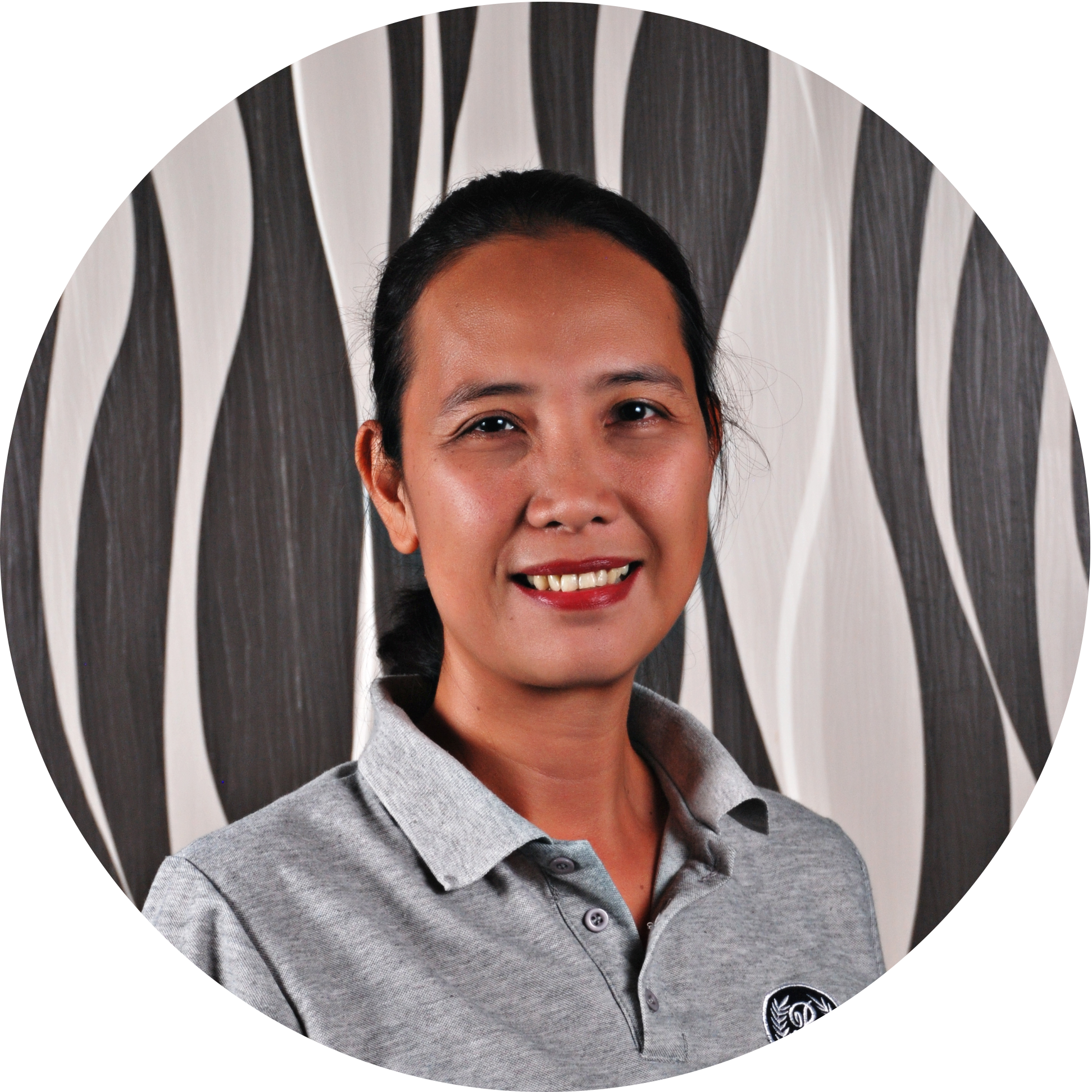 Joan Santua-Malata is a dedicated and professional content editor fond of learning the complexities of the online marketing realm. Leading the digital content media team, Joan enjoys writing relevant content custom-fit to various clients from caterers to industrial computer manufacturers.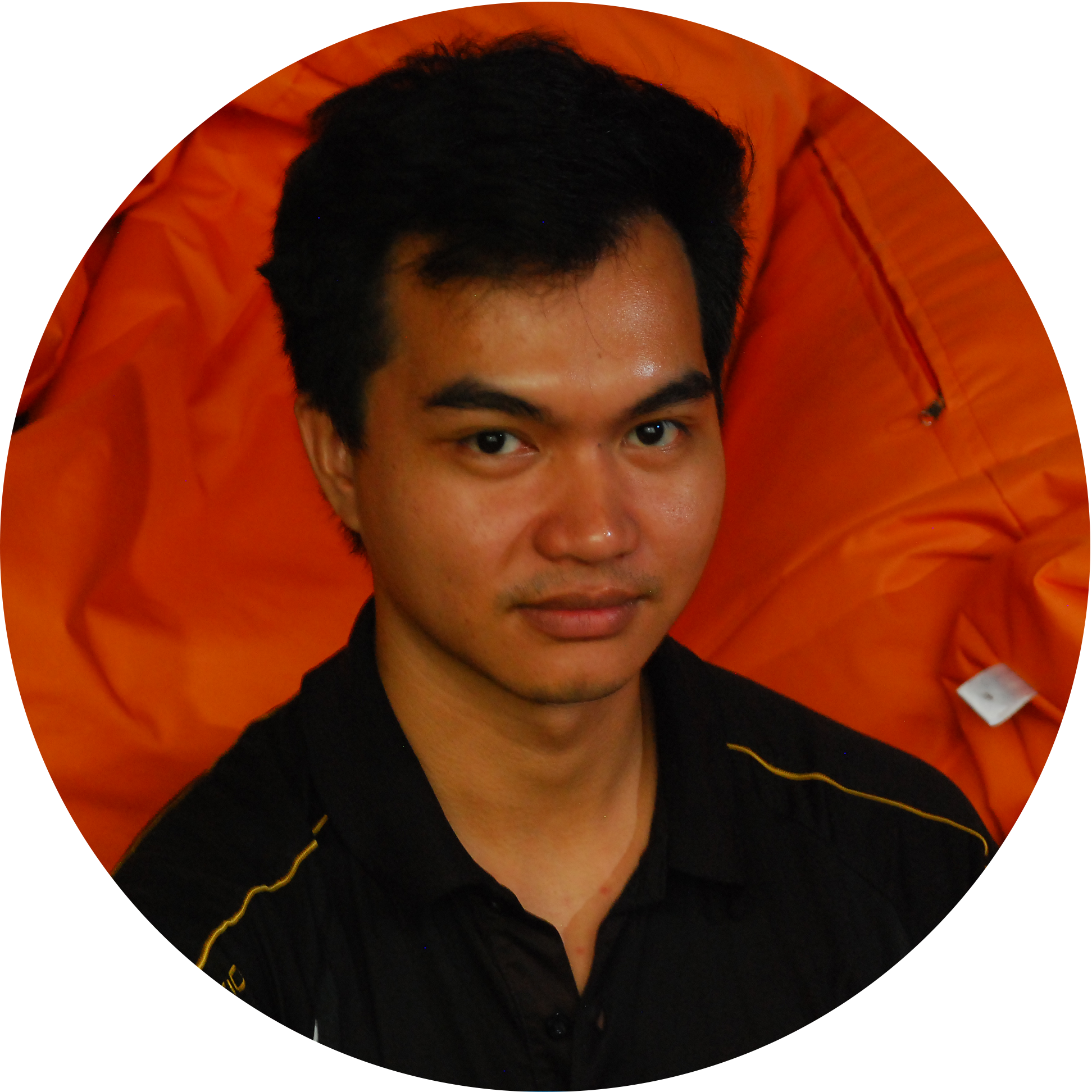 Trecemar Batulan, Jr. is a serious yet fun-loving content writer keen to develop quality and contextual marketing materials for our clients. Aside from delving on relevant topics and news on various industries, he gets a full inspiration to have his work and life balanced.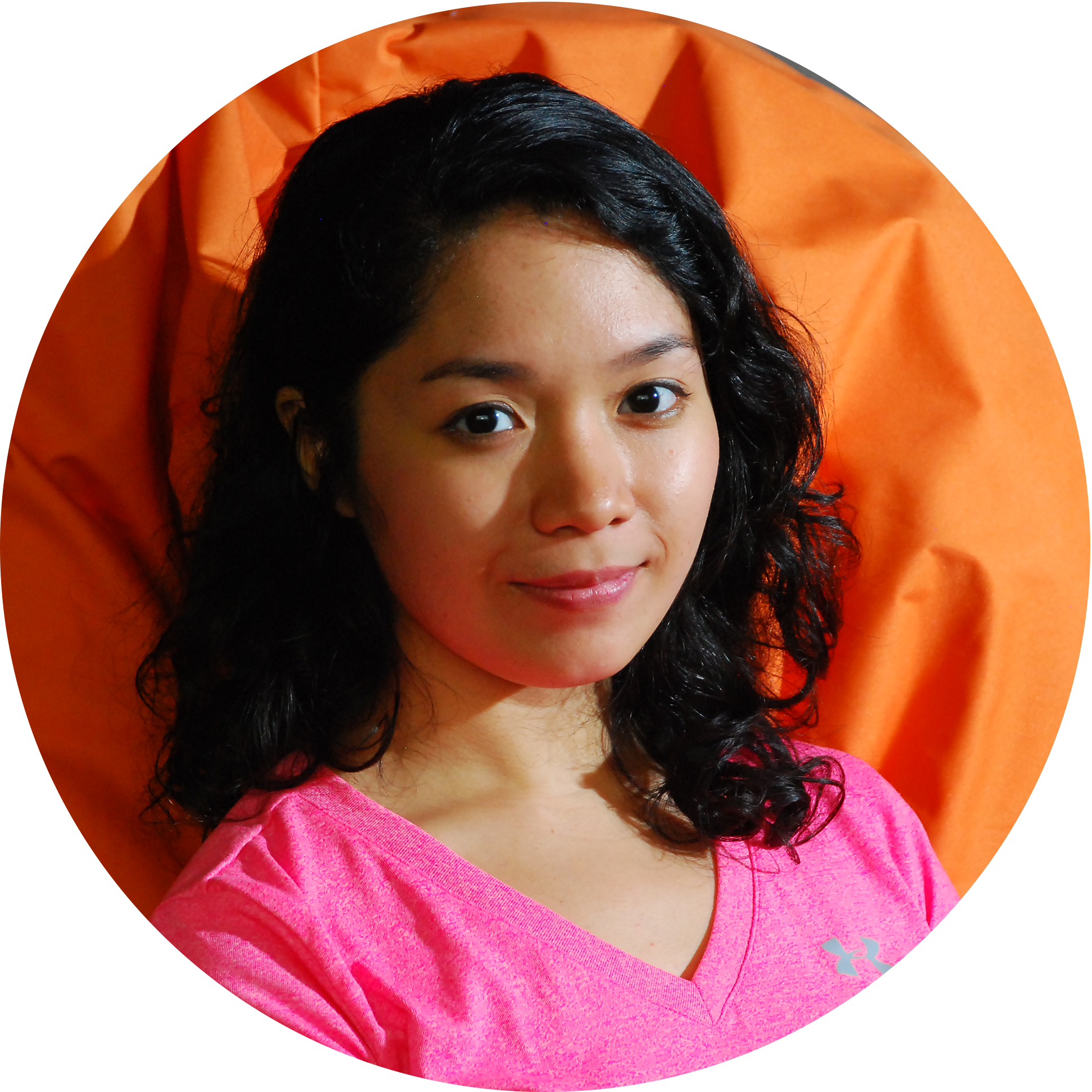 If you are looking for a bubbly and all-in-one flexible gymnast writer, Nieruby Diaz can be your best bet. Apart from flexing her muscles on the ropes, she magnanimously expresses her written thoughts to the industry needs and various customer experiences. She is well deserved and loved by the team for this purpose.